This week has been so nuts. Ava came down with some virus and had a horrible respiratory reaction because of it. The nebulizer wouldn't touch it so we brought her into the ER since it came on all of a sudden late at night. They treated her with a duoneb a couple times and then gave her some oral steroids. We didn't get home until 4 AM the next morning! She will still really miserable and was having a hard time breathing so I brought her into her PCP who then decided to admit her to the pediatric floor at the hospital for the rest of the day and overnight. They finally got it under control and she was discharged yesterday afternoon. She is now on 2 types or steroids plus the nebulizer every 4 hours. Thank goodness we don't use daycare because the doctor said we shouldn't even put her in the nursery at church to prevent this from happening again until she gets a little older! Basically every time she gets a simple cold/virus she will have this awful reaction (AWESOME..)
So much for the DMK sew-a-long. I'm wayy behind now. I do have all the pieces cut out, but that is it. It looks like it will come together pretty quickly but I'm not sure how much time/energy I'll have the next couple days until Ava gets a little better. Oh well. She will have a lovely new coat soon enough!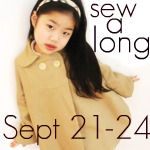 Here's the latest hoodie I've made from my new pattern. (Available October 1st if all goes well this week!) I love this Michael Miller print!